I'll Take Your Pants Down In Front Of Your Wife And Spank You TOO!

When a guy thinks he's too big to be spanked like a little boy, a Cougar Mistress will soon set his mind to right!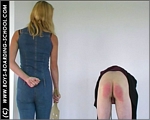 Bend For Me!
Sorry guy gets his ass welted with heavy wooden paddle from strict bitch as he learns the error of his ways. Many a mature woman fantasies about sexually humiliating and punishing a bossy male like this, but only a dominant cougar actually does it!
"I think I'll whip you next, probably naked…and with your pathetic little penis hanging out for the world to see!"
Mistress Tate
(Men are here to be used and abused, that's IT)
This Cougar Muscle Slut Will Do You RIGHT…


Right Up The ASS THAT IS!